UF MUF Resin Glue Plant (Urea Formaldehyde and Melamine Urea Formaldehyde)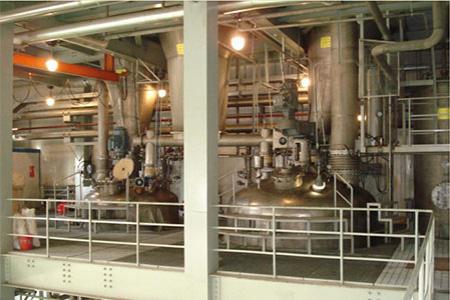 HO-[-CH2-NH-CO-NH-CH2-O]n-H
UF MUF resin glue plants are used to produce two adhesive types: UF (urea formaldehyde resin) and MUF (melamine modified urea formaldehyde resin). We supply artificial board manufacturers with the one stop services, from technical design and product design, all the way to equipment installation tests.
Main Equipment of UF MUF Resin Glue Plant
Resin stirring kettle.
High efficiency cooler.
Electrical control system.
Production Process of UF MUF Resin Glue Plant
Addition phase.
First polycondensation.
Second polycondensation.
Annotation
The amount of added Poly (vinyl alcohol), melamine, additives and ammonia, with PH value, temperature, reaction period and insulation period are different based on the needed glue environmental protection level and the matched wood material. Please be flexible in your decision.
For more information on the production process, please do not hesitate to contact us.
Specifications
S/N
Item
Index
UF RESIN E2
MUF RESIN E2
UF RESIN E1
UF RESIN E0
1
Appearance
Semi opaque viscous liquid
2
Viscosity at 30 ° C
200-250 cps
200 cps
50-200
180 cps
3
Solids Content at 2hr/120oC
49-51%
56%
50-54%
54%
4
Specific Gravity at 30oC
1.180-1.200
1.21
1.18-1.20
1.205
5
pH at 30oC
8.0-9.0
8.75
7.0-8.0
9.00
6
Gel time
30-40 sec
50 sec
50-90 sec
200 sec
Raw Material and Utility Specifications
Material / Utility
Value
Formaldehyde
37%-52%
Urea
46.5%
Melamine
99.8%
Process water(spare)
500kg/h
0.3Mpa
Colling water (required for cooling, intermittent supply)
250m3/h
31°C
0.3Mpa
Low pressure steam (Required for start and dehydration, intermittent supply)
2500kg/h
0.6Mpa
Instrument air
28Nm3/h
0.4Mpa
Electrical power
install219kW
employ170kW