Hexamine Plant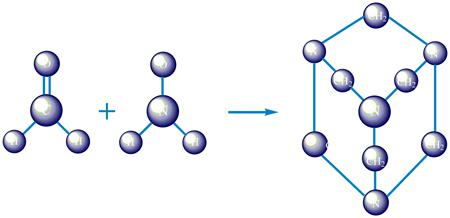 Hexamine's full name is hexamethylenetetramine, and is also called methenamine, urotropine, 1, 3, 5, 7- tetra azaadamantane, formin, and amino form. The main materials for hexamine production include formaldehyde and ammonium, and are used in two main processes: liquid phase process and gas phase process. Helipont offers both processes alongside engineering, special equipment, and after-sales services.
Production Process
Liquid Phase Process
The liquid phase process is mainly used in exhaust formaldehyde treatment. For example, there is often 15% dilute formaldehyde from the paraformaldehyde production process, and it is difficult to handle and cannot be directly discharged. The liquid phase process reuses the diluted formaldehyde to produce hexamine and improve the overall project economic value.
Liquid Phase Hexamine Plant Project Gallery
Gas Phase Process
The gas phase process has become a primary process due to its low production costs and low steam and ammonium consumption. We usually suggest clients use this process in newly built factories.
Gas Phase Hexamine Plant Project Gallery
Helipont not only offers corresponding production line and technology schematics for hexmine produces, but we also offer process diagrams and layout drawings, equipment installation services, pre-production commissioning services, and maintenance guidance services.